Post-Installation Details
Once you have successfully installed the Print to Fax software, you will see a new icon in your taskbar: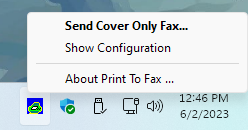 How To Send a Fax
To send a fax, simply print your document from any application, then select the
Print To Fax
printer. A Print to Fax window will appear on your screen. Enter the number you wish to send the fax to, and then select
Send
.
You will receive an email notification within 5 minutes aftering sending the fax.
Note: You may enter up to 20 additional numbers separated by a semicolin (e.g., 7635551234; 7635551235).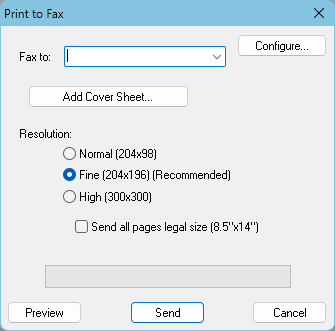 Add Cover Sheet (Optional)
You may click the Add Cover Sheet button in the main Print to Fax window to send a cover sheet along with your fax. All of the fields are optional, however if you do not enter any information, a cover sheet will not be included in your fax. If you want to add a logo, it must be in BMP format.